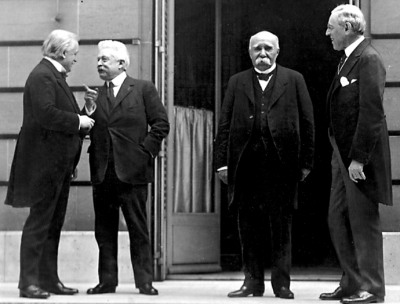 The Paris Peace Conference was held at the Palace of Versailles. 27 nations had delegations with negotiating rights but the BIG 4 dominated the proceedings.
The Paris Peace Talks were of immense interest to both Zionists and the sons of the Sharif of Mecca. Unfortunately neither the Arabs of Palestine and Syria nor the Kurds of Turkey and Iraq were consulted.
Prior to the Paris Peace talks, Prince Faisal, still temporary head of the Syrian administration invited Chaim Weizman, the Zionist leader to his HQ in Aqaba- with an eye to establishing favourable relations between Arabs and Jews in the Middle East.
During their meeting,they signed an agreement that at the coming Peace Conference in Paris, the Zionists would support an Arab khalifate in the Arab provinces of the Ottoman Empire. If the Arabs obtained their independence, the Arab khalifate would support a Jewish national home in Palestine
Prince Faisal headed an Arab delegation but his delegation had no negotiating powers. Chaim Weissman headed a Zionist delegation also without negotiating powers.
Russia had signed a peace treaty with the Central Powers in the spring of 1918 so was not allowed to attend.
The Central Powers - Austria-Hungary, Germany, Bulgaria and the Ottoman Empire - were not allowed to attend until details of all peace treaties had been agreed upon by the nations with negotiating rights.