In 1914, shortly after WW1 broke out, the Ottoman Empire joined the Germans and Hapsburgs in their fight against the British Empire, France and Russia. The Ottomans controlled territory bordering Egypt, which, although still theoretically within the Ottoman Empire, for all practical purposes, was ruled by the British.
The British feared the Ottomans would attack The Suez Canal, which they used to bring troops and supply ships from all parts of the empire to the Western Front and formally took over Egypt.
Britain's naval commander wanted to capture Alexandretta in Syria to use as a base when fighting the Turks, but France, suspecting that Britain was attempting to usurp her influence in Syria, threatened to break away from the alliance if the British attacked Alexandretta.
To appease the French, Britain confronted the Turks at Gallipoli instead of Alexandretta, employing troops from all over the Empire.
In 1915 in Egypt a Russian Jew who was to become an important figure in the history of Palestine, Vladimir (later Ze'ev) Jabotinsky together with his friend Joseph Trumpeldor, a one-armed veteran of the Russo-Japanese War, created the Zion Mule Corps, consisting of several hundred Jewish men, mainly Russians,whom the Ottomans had exiled to Egypt from the Levant. The Zion Mule Corps served with distinction in the Battle of Gallipoli,in which the forces of the British Empire were defeated with heavy losses and forced to return to Egypt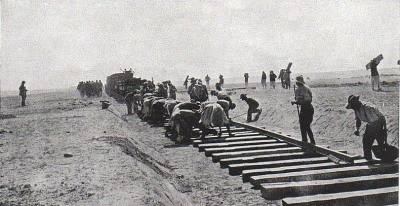 After Gallipoli, the British created an Egyptian Expeditionary Force (EEF), composed of soldiers from all over the Commonwealth, to clear invading Turks from the Sinai Desert.
The EEF marched across the Sinai desert, poisoning wells to prevent Turks using them and creating a coastal railroad as they went to bring water and food to the allied marching troops. At the same time the Arabs under the leadership of Prince Faisal and T.E. Lawrence attacked the Hejaz railway that brought Turkish troop south.
When the Sinai was safe the EEF crossed the border to attack the Ottoman Empire, Once again the French suspected Britain of trying to take over Syria


In 1917, the government agreed to establish three Jewish battalions, creating the Jewish Legion for which Jabotinsky had been lobbying since the beginning of the war. As an honorary lieutenant in the 38th Royal Fusiliers, Jabotinsky saw action in Palestine in 1918. His battalion was one of the first to enter Transjordan.
The photo shows him in the uniform of a British lieutenant.
While the EEF slogged it out in the Sinai, Negev and the Judean Hills, British Diplomats and War Cabinet members made three Promises that affected the future of Palestine.