The Palestine Police had yet another problem on their hands.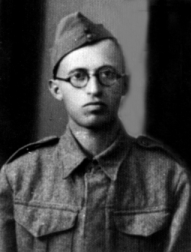 After Rommel had been defeated and the Palmach had reinvented themselves, the Irgun also re-organised. They chose a new leader,Menachem Begin, who had been a leader of Polish Betar, before being sent to a labour camp in Siberia by the Soviets at the start of WW 2. He, along with all imprisoned Poles, was released under a Soviet-Polish when Germany attacked Russia. He joined General Anders' Free Polish army and travelled with it to Palestine.
(If anyone wishes to known more about the Free Polish Army and their horrendous journey from Siberia to Palestine, I recommend Kazia Myers' splendid novel 'The Journey'.)
(The picture on the left shows Menachem Begin in the uniform of Anders' army. )
Begin established a new Irgun General HQ and new commanders, who immediately passed two resolutions:
1. to launch an armed struggle against the British.

2. to detach Irgun from the Revisionary Party so it could follow its own path.
On 1st February 1944 the police found an Irgun proclamation pasted on buildings throughout Palestine. Text of the Irgun Proclamation
The Irgun cut all official ties with the New Zionist Organization and began a militant operation against the police, army and other symbols of British government in an attempt to harm both the regime's operation and its reputation. They stole weapons from British armouries and cached them in secret hiding places.
.
The Irgun's first attack on the civilian administration came on Saturday February 12, 1944 against government immigration offices in Palestine's three main cities: Jerusalem, Tel Aviv, and Haifa. The attacks took place at night so the buildings were empty and there were no casualties.
On February 27th they bombed income tax offices, also at night and prior warnings were put up near the buildings.
On March 23rd they attacked the national headquarters building of the British police in the Russian Compound in Jerusalem. The Irgun went on to attack police stations and headquarters, and even the Tegart at Latrun.
Before Yom Kippur of 1944 the Irgun plastered notices around town, warning that no British Police should come to the Western Wall on Yom Kippur. For the first time since the mandate began, no British police officers prevented the traditional Shofar blowing at the end of the fast. After the fast the Irgun attacked four police stations in Arab settlements.
The leadership of the Yishuv and The Jewish Agency condemned the Irgun actions as dangerous provocations.