.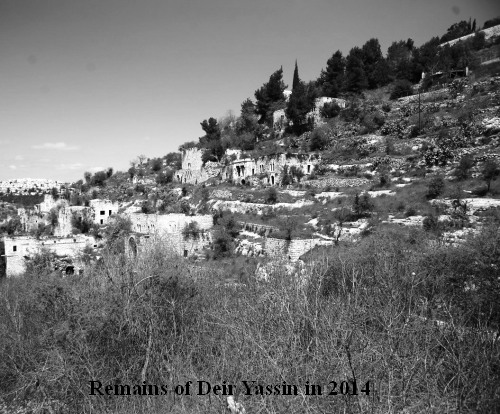 Deir Yassin at the beginning of April 1948, was an Arab village on a hilltop opposite the neighbouring Orthodox Jewish settlement of Givat Shaul. It is usually described as being about five kilometers west of Jerusalem.
The the Irgun and Lehi's attack, on April 9th was their contribution to the Battle for the Roads. It came when most village menfolk were away in Jerusalem attending the funeral of Abd al-Qadir al-Husayni, and about a month after Deir Yassin and Givat Shaul had concluded a non-aggression pact with each other. This pact, of course, didn't preclude Haganah calling up men from Givat Shaul, although since most families there were Haredi anti-Zionists only rebellious youths would have answered the call. Nor did the pact preclude hotheads from Deir Yassin spending their leisure hours helping the Arab Holy Army blockade Jewish convoys on the nearby Jerusalem to Tel Aviv road.
The Irgun/Lehi attack occurred on a Friday at dawn. By 9 a.m. the Arab emergency committee in Jerusalem, having learned of the attack, requested the help of the British High Commissioner, Sir Alan Cunningham. He urged General Sir Gordon McMillan, commander of the Palestine Forces, to send troops to the aid of Deir Yassin, but the general replied that he could risk British lives only for British interests. The RAF commanding officer brought in a squadron of Tempest aircraft from Iraq to bomb the village, but by the time they arrived the massacre was over and Haganah had taken over control, so Sir Alan cancelled the operation.
The Palestine Post did not publish on Saturdays, so it was Sunday 11th before the English-speaking public learnt of the event even then the story did not receive pride of place. The article about Deir Yassin was tucked away in the lower half of the page.
The event that changed the perceived importance of Deir Yassin was a visit to the village on that Sunday by the head of the International Committee of the Red Cross delegation in Palestine, Jacques de Reynier, and his assistant Dr. Alfred Engel. In his personal memoirs, published two years later, Reynier wrote:
"A total of more than 200 dead, men, women, and children. About 150 cadavers have not been preserved inside the village in view of the danger represented by the bodies' decomposition. They have been gathered, transported some distance, and placed in a large trough (I have not been able to establish if this is a pit, a grain silo, or a large natural excavation). ... [One body was] a woman who must have been eight months pregnant, hit in the stomach, with powder burns on her dress indicating she'd been shot point-blank."
He wrote that he had encountered a "cleaning-up team" when he arrived at the village:
"The gang [the Irgun detachment] was wearing country uniforms with helmets. All of them were young, some even adolescents, men and women, armed to the teeth: revolvers, machine-guns, hand grenades, and also cutlasses in their hands, most of them still blood-stained. A beautiful young girl, with criminal eyes, showed me hers still dripping with blood; she displayed it like a trophy. This was the 'cleaning up' team, that was obviously performing its task very conscientiously.
I tried to go into a house. A dozen soldiers surrounded me, their machine-guns aimed at my body, and their officer forbade me to move ... I then flew into one of the most towering rages of my life, telling these criminals what I thought of their conduct, threatening them with everything I could think of, and then pushed them aside and went into the house...I found some bodies, cold. Here the "cleaning up" had been done with machine-guns, then hand grenades. It had been finished off with knives, anyone could see that ... as I was about to leave, I heard something like a sigh. I looked everywhere, turned over all the bodies, and eventually found a little foot, still warm. It was a little girl of ten, mutilated by a hand grenade, but still alive ..."
After his inspection, the Irgun asked him to sign a document to say he had been received courteously and thanking them for their help. When he refused, they told him he would sign it if he valued his life.
"The only course open to me" he wrote " was to convince them that I did not value my life in the least," .
The British police left in Jerusalem now decided to investigate even though there was little they could do about it since the courtrooms had already closed down.
Report by Richard Catling, Assistant Inspector-General of the CID.
"On 14th April at 10 a.m. I visited Silwan village accompanied by a doctor and a nurse from the Government Hospital in Jerusalem and a member of the Arab Women's Union. We visited many houses in this village in which approximately some two to three hundred people from Deir Yassin village are housed. I interviewed many of the women folk in order to glean some information on any atrocities committed in Deir Yassin but the majority of those women are very shy and reluctant to relate their experiences especially in matters concerning sexual assault and they need great coaxing before they will divulge any information. The recording of statements is hampered also by the hysterical state of the women who often break down many times whilst the statement is being recorded. There is, however, no doubt that many sexual atrocities were committed by the attacking Jews. Many young schoolgirls were raped and later slaughtered. Old women were also molested. One story is current concerning a case in which a young girl was literally torn in two. Many infants were also butchered and killed. I also saw one old woman who gave her age as one hundred and four who had been severely beaten about the head with rifle butts. Women had bracelets torn from their arms and rings from their fingers and parts of some of the women's ears were severed in order to remove earrings."