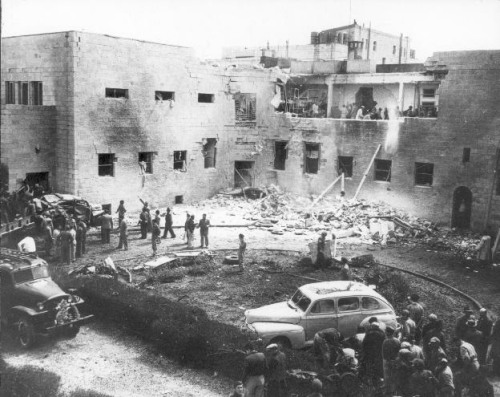 With the creation of checkpoints and the issuing of zone passes, the British section of the Palestine became almost irrelevant to security inside the Arab and Jewish zones. In compensation militants found it increasingly difficult to use car bombs inside the zones zones more difficult but not impossible so the jewish Agency exercised strict security measures in its compund inhe Jewish Agency Compound was well within the Jewish zone but nevertheless the Agency kept strict precautions.The anticipated attack, came from someone they had no reason to suspect.
On March 11 1948, the official and familiar green limousine of the American consul general, flying the Stars and Stripes drove into to the courtyard of the heavily guarded compound. It was chauffeured as usual by Armenian Anton Da'ud Kamilyo, a US citizen and former collaborator with Zionist intelligence. This time, however, there were 220 pounds of TNT hidden in the boot, more than enough, according to the chief Arab bomb-maker, Fawzi Kutub, to wipe out the entire general staff of Haganah.
Da'ud, who was in reality a double agent, parked the consulate car in front of the Agency headquarters and immediately left in a taxi. A security official noticed wires dangling from the trunk, became suspicious and attempted to move the car.
No sooner he he taken off the brake, than the charge exploded destroying the wall outside the lower two stories and part of the wing. Flames engulfed the whole building killing the chairman of the Jewish National Fund and 6 colleagues. Almost 100 people were injured.