In Haifa, as in most of Palestine, Arabs now attacked Jews and the Irgun concentrated on attacking Arabs instead of the British. Initially, Haifa got off comparatively lightly. Throughout the first months, within the town of Haifa, Haifa Operational Patrols (HOP) kept some resemblance of order. It was their proud boast that none one in Haifa could carry arms publicly with impunity. The same could not be said of most of Palestine in 1948. Although Arab shops shut for the national strike, for the first month after partition, Arab workers turned up as usual at the port, railway, post office and all public works. Most injuries were caused by youths throwing stones at lorries and cars, but no one was seriously hurt. Two fires were started in Jewish carpentry shops but fire engines arrived immediately so they caused little damage. All the same Jewish families, living in mainly Arab areas, asked the Jewish Agency team in Haifa to rehouse them and Haganah, for reasons that wr to become apparent later, gave them permission to move.
Then, on December 30th the Irgun hurled two bombs at a group of Arabs waiting for construction jobs outside the Haifa refinery, killing 6 and injuring 42. As a consequence 2,000 Arab employees inside the refinery rioted, killing 39 of their Jewish colleagues.
The Jewish Agency condemned the Irgun for their "act of madness" but nevertheless authorized the Palmach to retaliate for the deaths of the Jewish workers by raiding Balad al-Sheikh, an Arab village that supplied many of the refinery's Arab workers.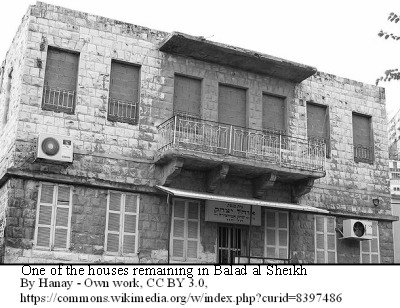 Next day, the Palmach dragged out the villages' adult males and shot them. They pulled down houses and in doing so killed some women and children. The number of casualties remains in dispute.