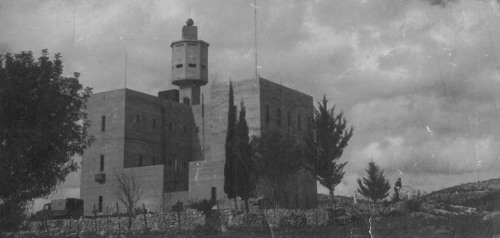 Not everything was doom and gloom in 1947 Palestine. James Wood, a young British constable, thoroughly enjoyed his posting to Al-Bassa Tegart in northern Palestine, close to the Lebanese border.
The tegart stood outside one of the largest, most developed villages in Northern Palestine, with a commercial centre that contained over fifty shops and eleven coffee houses, a few of which sat along the coastal Haifa-Beirut highway. It had paved roads and running water. The population of about 4,000 was divided almost evenly between Muslim and Christian Arabs.
B/C James Wood's describes his experiences of 1947:
"I arrived at Bassa, with my dog,Flash, via the Divisional HQ at Acre. Bassa was a frontier post constructed like a small desert fortress with an observation tower above and an underground reservoir for water below. All windows were barred and fitted with steel shutters with rifle slits. The compound was fenced and defended in depth with coiled barbed wire.
The post was manned by 12 living-in British personnel: a sergeant and eleven constables and some 16 or 20 Arab constables.
I have a Christmas Dinner Menu Card (25.12.1947) that was autographed by the lads. Their names are;
B/sgt Denbeigh from Cornwall. ( the Shawish), B/c F.W.Davies, the unit driver from Edmonton, North London, B/c R.G.Manchip from Portsmouth, B/c K.Hancock from Southampton, B/c Alexander Goldie from Glasgow, B/Cc Chris Cook, B/C 1031 K.E.Pudleigh, B/c 'Gung Ho' Joe Junior from the Isle of Wight, B/c T.J.Smyth from Scotland, B/c Sharrington from London, B/c W.S.Terry, from Croydon, B/c 2805 Hardisty from Claygate, Surrey - (This last man was a good photographer. He took the photo at the top of this page using the wrapper from a boiled sweet to act as a filter to obtain the rare sight of the post with clouds.)
B/c 1452 J.F. Wood B/C (myself)originally from London now in Germany.
The 'Shawish' B/sgt 1031 Ronald Denbeigh was an excellent NCO with good Arabic and Hebrew who maintained excellent relations with the Mukhtar of Bassa village and the head man of the local Kibbutz. The women from a Bedouin camp adjacent to the post were permitted to come into the compound and draw water from our underground reservoir. They sometimes got a shock when 'Gung Ho' Joe was swimming down there and held their bucket down.
The post was equipped with a diesel generator and an array of large batteries that provided us with our electricity. They were adequate for our domestic use but any attempt to use the spot light on the tower would drain them inside fifteen minutes.
The post was provided with a shotgun for recreational use, I was the main user and actually managed to train my dog, Flash, to retrieve.
A company of the Middlesex Regiment occupied a military compound and camp a few miles further along the frontier road.
On one occasion we invited a group from the Middlesexes for a games night. The first man through the door greeted me with "Hallo Jim".
"Should I know you?" I asked.
"Well, you certainly should do", he said,"We used to sit together at the same desk in Globe Road School".
The local Kibbutz used blasting powder for breaking up rocks when laying irrigation pipe lines. For obvious reasons that stuff had to be stored in our Post armoury and we were responsible for supervising its use. So it was that Gung Ho Joe Junior and I found ourselves up on a hillside watching an elderly Arab drill holes in the sand stone rock. He did it with an iron bar, an old leather sole from a shoe and a can of water.
Water was poured into the hole, the iron bar was slid in and out of the hole with the leather on the bar to help keep the water in the hole. It was surprisingly easy. Once he had a line of ten or twelve holes, roughly a metre apart, an expert would insert a length of cord fuse with 30 or 40 centimeters standing proud of the hole. The hole would then be perhaps half-way filled with the blasting powder (it wasn't actually powder but black, glazed granules about the size of sun flower seeds). That was then tamped down and the hole filled and sealed with a piece of rag and moist dust. The extended piece of cord fuse was then knotted and the knot sliced open to expose the central core that would carry the flame into the hole. The expert moved swiftly along the line lighting the fuses while everyone took cover.
We counted the explosions to ensure that everything was OK.
There was, inevitably, an occasion when we were a bang short. Having waited an extra four or five minutes we emerged from cover and, equally inevitably, Gung Ho Joe Junior went and stood over the unexploded hole and pulled out the charred fuse. There must have been a residual spark lingering in the bottom because there was a loud bang and Junior was lifted up bodily on his piece of rock, which then split in two and lowered him down with his legs wider apart than they had been when he went up.
Not satisfied with that particular adventure, Junior decided to relieve the boredom by making a hand grenade using one of our round cigarette tins. He made a good job with the fuse in the little hole in the lid and the lid taped down with adhesive. He then placed it by his side on the bench seat alongside our camp fire. The inevitable happened of course and we had to evacuate the area pretty damn quick. You will have gathered that Gung Ho Joe Junior was something of a challenge.
B/c Davies and myself were detailed to take some of the Arab constables for a day's rifle practise on the ranges. We travelled in that maid-of-all-work, the Bedford 15 cwt. As we were leaving we set up a fox from the 200 yards firing point. The fox ran down the range and we took a few futile pot shots at it en route. It then dropped into a ditch and smartly turned around to look back at us with its muzzle flat on the edge of the ditch. Davies was about to drive on when I called for him to wait while I had another shot. Having set my sights I took a standing shot from the back of the truck and the Arabs shouted that I had a hit. Unbelievably, I had indeed. The bullet had gone in alongside the snout and come out through the head. The Arabs were convinced that I was some sort of champion shot and I was happy to let them take the fox, which I had no use for. A few days later we had a very pleasant surprise when the local Bedouin chief sent us a large quantity of Bantam eggs, around 200, as a reward for killing the fox.
Approximately once a month the Shawish borrowed an estate car from the village and took half of us into Zachary, a small coastal resort town, for an evening out. We went in civilian clothes but had to be armed which, because of the lack of pistols, meant Sten guns in shopping bags. All very high tech.
It was our habit to use Charlie's Bar which faced directly onto the beach. We were well known to the locals so it was no surprise when the Shawish was called outside by someone. It was a considerable surprise, however, when he returned and instructed us to remain inside the bar until further notice. There were men outside with automatic weapons whose sole purpose was to ensure that we remained inside and out of sight. We returned to the Post at the earliest opportunity and were not surprised that they had received instructions over the radio to mount road blocks because an illegal refugee ship had run the blockade and beached at Nahariya.
Late one afternoon I was walking back to the post in the rain having shot a duck (they migrate down the coast.) Hearing a military vehicle coming I turned to wave it down for a lift. Big mistake. The men were Arab Legion and the passenger sprang out and poked me very solidly in the midriff with the muzzle of a M.S Sten gun. Stens have a nasty habit of firing when knocked or dropped but he had every right as I was not in uniform and carrying a weapon. The Arab Legion men had taken over the camp previously occupied by our friends from the Middlesex company.
I returned to the post a proud possessor of one dead duck and clean under-pants.
It was not long into 1948 when things began to go seriously wrong. We should have seen the writing on the wall.