i. UNSCOP begins
ii. British Alienate UNSCOP
iii. The Two Sergeants
iv. End of the PMF
v. Life at Bassa Tegart 1947
vi. UNSCOP's Partition Plan and UN vote.
vii. Police Reactions to UN Vote
Two events in particular alienated UNSCOP from the British.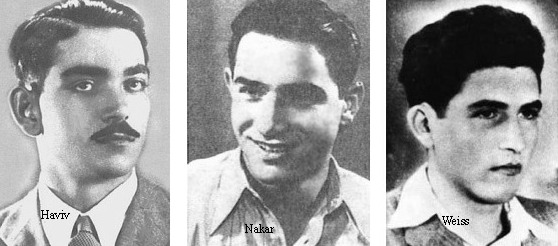 A British military court sentenced to death, against the advice of UNSCOP members, three Irgun men (Avshalom Haviv, Meir Nakar, Ya'akov Weiss) who had been captured and arrested after taking part in the Acre breakout.

Soon afterwards the British made an even worse diplomatic blunder.
When a ship, Exodus 47, arrived in Palestinian waters carrying 4,500 illegal immigrants, the Royal Navy did exactly as the Irgun had hoped they would do. They boarded the Exodus '47 by force and towed it into Haifa harbour. As police and soldiers forced the passengers to disembark from the Exodus and board ships sent to deport them, two members of UNSCOP, the chairman, Emil Sandström of Sweden, and the Yugoslavian representative, Vladimir Simic, watched the proceedings with disgust.