i. Givat Hayim
ii. Ramat Gan
iii. Night of the Bridges
iv. Attack on Railway Workshops
v. OP Agatha
vi. Bombing of the King David Hotel
vii. Operation Shark
Between the beginning of November 1945 and the end of June 1946, the United Jewish Resistance killed 13 members of the Palestine Police and wounded 63. Nonetheless, police discipline remained firm in the face of such severe provocation.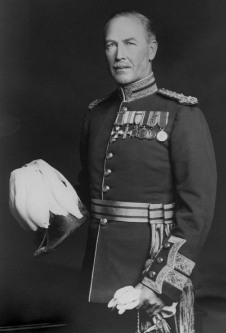 Despite the CID's conviction that the Jewish Agency was masterminding the Jewish United Resistance, for a long time the High Commissioner,Sir Alan Cunningham, (Photo left) opposed police and army taking action against the Agency. However, Sir Evelyn Barker,the General Officer Commanding (GOC) British Forces in Palestine and Trans-Jordan, was not confident of military morale. Some army officers reported that their units were close to going on revengeful rampages in Jewish villages on the grounds that Jewish terrorists, unlike Arab terrorists were being sentenced to life imprisonment instead of hanging for attacking army personnel. Everyone was certain those life imprisonments would be rescinded when Palestine became independent in 1949,( as laid down in the 1939 White Paper.)
It took 'the Night of the Bridges' to change the High Commissioner's mind and persuade him to go to London to discuss ways to put down the Jewish Revolt. A cynic might consider that it was the financial cost of the Jewish resistance (£4,000,000) rather than human casualties that finally persuaded the British government to authorize the High Commissioner to take steps to bring violence to an end.
Sir Alan Cunningham then consulted Field Martial Montgomery who came up with the plan, Operation Agatha. Cunningham reluctantly agreed, hoping that, once the more militant Zionists wee restrained, the government could reach a political settlement with more moderate (and pro-British) leaders such as Chaim Weizmann.
Although a military operation, Operation Agatha had to have the co-operation of the Palestine Police, since the army had no authority to search civilian premises or arrest civilians.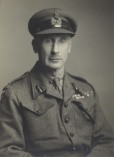 Photo right) Under the joint leadership of Colonel W.N.Grey, Inspector General of Police, (Photo left) and Sir Evelyn Barker)(Photo right) Operation Agatha was planned in great secrecy. The Jewish Agency knew of it but not the date. On the night of Friday 28th June, soldiers from the Signals shut down all post and telegraph exchanges, both automatic and manual and the government imposed a strict curfew that included people who normally had special passes and the army, with accompanying police officers, raided Jewish Agency offices in Jerusalem, Haifa and Tel Aviv. They removed important documents proving the Jewish Agency's involvement in the Jewish Resistance Movement and took them to the Government Secretariat offices in the West wing of the King David Hotel. They arrested chief officers of the Jewish Agency and detained them at Latrun. They cordoned and searched twenty-five Jewish settlements and detained 2,659 men and 59 women, mostly Palmach members. Although not the primary objective, many arms caches were found, including a large one beneath the Great Synagogue in Tel Aviv.

>