Hebron was an ancient town revered by both Arabs and Jews as the resting place of the biblical patriarch Abraham, their common ancestor. The majority of inhabitants were Arabs, but there were two Jewish communities, the oriental Sephardim who had lived in peace with their neighbours for centuries and a newly arrived European Ashkanahzi theological school who kept themselves aloof from the local Arabs. As a result Arabs regarded the Ashkanahzi with suspicion.
The senior police officer and the only British policeman in Hebron in the summer of 1929 was Assistant Superintendent Raymond Cafferata. He had eleven Arab Police under his command, most veterans of the Ottoman Force, and one Jewish constable. The dependability of the Arab Police was suspect if they were called on to act against other Arabs demonstrating against Jewish immigration.
Hearing that an Arab mob composed of men from the surrounding villagers was heading for Hebron, Raymond Cafferata sent to Jerusalem for British reinforcements. His request was at first refused.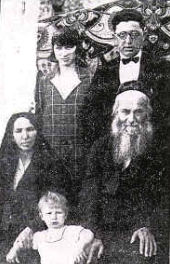 A large party of Arabs, including an Arab Policeman on leave from Jaffa, invaded the Jewish quarter of Hebron and began murdering any Jews they found. At least 67 died.
Here is a photo of some of the victims
While some Arab police were reluctant to take action against their countrymen, some did give shelter to Jews, as did many Arab civilians.
Raymond Cafferata, by heroic actions, managed to protect and save some 640 Jews, at one point having to shoot an Arab policeman from Jaffa who was murdering an elderly woman. Despite this, Right wing Zionists even to this day consider he did not do enough to prevent the massacre.
In the meantime a small party of British Police, six in number, braved sniper fire and eventually managed to lift the siege of Hebron.
Cafferata was later awarded the King's Police Medal for Gallantry.
A few dozen families returned to Hebron in 1931 to re-establish the community. All but one family were evacuated from Hebron at the outset of the 1936–39 Arab revolt in Palestine. The last family left in 1947.