On 31stOctober 1943 nineteen Lehi leaders escaped from Latrun detention camp via a 73 metre tunnel.
With their leadership restored, LEHI re-emerged stronger than they had had been before Stern's death and proved another another huge problem for both the police and the army. Instead of fresh attempts to negotiate with the Nazis, they now officially declared their support for National Bolshevism and received funds from both the Soviet Union and from the Free French, who were furious with the British for their support of an Arab Federation.
Eliyahu Bet-Zuri and Eliyahu Hakim were two members of LEHI who, in 1940 at he age of 14, had vowed to wage war on Britain after, watching rescue operations on the capsized SS Patria and,mistakenly, assuming that the British had sabotaged the boat.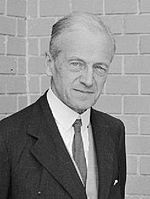 The resuscitated Lehi's first major act was to send these two young men to Egypt to assasinate the resident minister of State for the Middle East and North Africa,Lord Moyne, a close friend of the British Prime Minister, Winston Churchill. Lord Moyne's main responsibility was to ensure the defeat of the Axis forces in North Africa, but he also monitored the influence on Arab opinion of the Grand Mufti.
On 6thNovember 1944, Bet-Zuri and Hakim lurked near Lord Moyne's home in Cairo. When Lord Moyne's car drew up, they shot dead not only Lord Moyne but also his driver.
An Egyptian police motor cyclist killed Hakim but Bet-Zuri escaped. Later, however, he was captured and executed in Egypt.*
After the assassination, Winston Churchill, who had previously described himself as a Zionist, stated:
If our dreams for Zionism are to end in the smoke of assassins' pistols and our labours for its future to produce only a new set of gangsters worthy of Nazi Germany, many like myself will have to reconsider the position we have maintained so consistently and so long in the past. If there is to be any hope of a peaceful and successful future for Zionism, these wicked activities must cease, and those responsible for them must be destroyed root and branch. [...] In Palestine the executive of the Jewish Agency have called upon the Jewish community—and I quote their actual words: To cast out the members of this destructive band, deprive them of all refuge and shelter, to resist their threats, and to render all necessary assistance to the authorities in the prevention of terrorist acts, and in the eradication of the terrorist organisation. These are strong words, but we must wait for these words to be translated into deeds.
He also added:
I can assure the House that the Jews in Palestine have rarely lost a better or more well-informed friend.
Chaim Weizmann gave it as his opinion that the assassination of Moyle was the greatest catastrophe that could have occurred to Zionism.
The partition plan for Palestine which was due for its final approval the following week was shelved.
By November 1944the Lehi were spreading their terrorism beyond Palestinian boundaries. English newspapers were full of Lehi threats to destroy government buildings in London.